DELWP to investigate VicForests for logging protected rainforests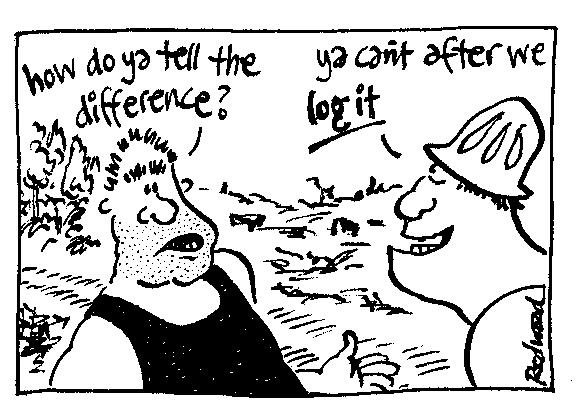 For the third time in as many months, a Gippsland-based environmental organisation has blown the whistle on VicForests for logging potentially protected rainforest in the region.
In early April 2016, the Goongerah Environment Centre (GECO) announced it had exposed Victoria's commercial logging business, VicForests, triggering an investigation by the Department of Environment Land Water and Planning (DELWP).
GECO stated that its recent surveys in East Gippsland revealed logging had occurred in rainforest buffer zones where rare and endangered species had been identified.
GECO spokesperson Ed Hill said this  is the third time rainforest logging operations had been investigated by DELWP in as many months, with VicForests showing "blatant contempt for the and for East Gippsland's unique rainforest areas".
"Rare and protected slender tree ferns and an even rarer hybrid, the skirted tree fern, have also been detected within and adjacent to the logging area," Hill said. "VicForests and DELWP are required to create a 250-metre management zone that restricts logging around slender tree ferns, this has not been done and logging has already come too close.
"This coupe had not been subject to a legally required ecological survey, so the rare ferns and rainforest values were not identified before the bulldozers came in. Once again it's left up to citizen scientists to identify protected forest values before they are destroyed."
GECO has called on the state government to tighten regulation of VicForests, citing issues with the "shonky" system of self regulation currently in place.
Invited by Wild to comment on the matter, VicForests' manager of corporate communications, David Walsh said it was cooperating with DELWP with regard to "allegations regarding rainforest in East Gippsland".
"We believe we have complied with the regulations aimed to protect rainforest and will continue to assist DELWP with their investigation," he said, stating that VicForests had undertaken due diligence by having staff assess the site in questions before operations began, but that the GECO findings had brought to light "new information".
"VicForests is currently reviewing additional new information which has been provided by a community group about the presence of threatened plant species on and adjacent to the site. The majority of these plant species have already been excluded from harvesting but further assessment is taking place to ensure the necessary protection measures are in place," Walsh said.
Although no logging has occurred on the site in recent days due to poor weather conditions, GECO nevertheless stated it hopes the state government will take firm action in a timely fashion.
"Environment Minister Lisa Neville needs to get tough with VicForests," said Hill. "DELWP can hardly keep up with the volume of illegal logging breaches; they need to use their regulatory powers to prosecute VicForests in the courts before they make a further mockery of the law."
A statement from Neville says the government is currently ascertaining whether a breach of regulation has occurred.
"We take these issues seriously and the government is completing its investigation to determine if a breach has occurred. I have asked the department to ensure this issue is resolved in a timely way. All logging has stopped while the investigation is underway."
Originally Published at http://wild.com.au/news/delwp-investigates-vicforests-east-gippsland/